Emotional Pull For Character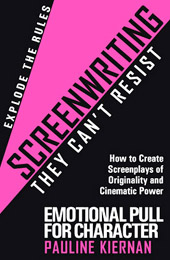 A radically new and provocative approach for screenwriters who want to create utterly compelling characters.
Everything in a screenplay is based on one overriding premise: Emotional Pull. How you spell-bind an audience into an irresistible involvement with your characters and keep it entranced by that magic till the end of the film – and beyond - is to arouse, provoke, intrigue, disturb, unsettle, excite, exhilarate, frighten, gladden, mesmerize, and delight the audience's emotions.
Inside the book:
Intensive, practical workouts which focus on your own creative vision and unique storytelling voice
Think Outside The Box sections offering ideas to inspire you
Power Up Your Character Writing Exercises
Brainstorming prompts for how to make sure your characters are unique
Online resources to look up to see for yourself the topic being discussed at that particular point in the book.:
Weblinks to movie clips
Weblinks to online movie scripts
Weblinks to interviews with great screenwriters, directors and actors talking about the importance of compelling characters in screenplays
Screenwriting They Can't Resist. Emotional Pull for Character is for writers passionate about the wondrous potential of cinematic storytelling, who want their screenplays to challenge and disturb, excite and exhilarate an audience, and leave them emotionally and mentally stretched.
Buy this e-book from Amazon